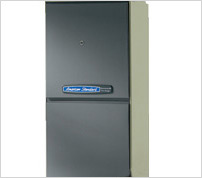 When your furnace starts acting up, a repair might only be a short-term bandage for a bigger problem. Furnace replacement makes a smart investment because it leads to lower utility bills as well as better comfort and air quality throughout the home.
Our technicians will give you helpful straight-talk about whether you should repair or replace your aging furnace. Call 847-729-0114 for a free furnace replacement estimate or to schedule service from Glenbrook Heating & Air Conditioning, anywhere in the Glenview, Illinois area.
Warning Signs that You Should Replace Your Furnace
When repairs are not enough to help a sputtering, inefficient, or broken down furnace, it's time to explore your options for replacing it with a modern upgrade.
Our HVAC experts can diagnose the issues, recommend repair or replacement, and help you weigh the options.
The older the furnace, the more likely you will need Glenview furnace replacement services. Here's what you should know about the most common furnace problems we see in the Glenview area:
Inconsistent heating. Cold rooms or overheated areas are some of the most noticeable signs that your furnace is failing.
Pilot light problems. If your pilot light is burning too yellow-orange or it keeps going out entirely, this is a very dangerous carbon monoxide risk and also a sign that the furnace itself is breaking down.
Increasing utility bills. Spikes in your winter heating bills may indicate that the equipment is struggling. It will only keep burning more and more fuel while doing a sub-par job of heating.
More than 15 years old. Some furnaces last 20 years or longer, but at 15 years you need to be prepared that increasing repairs or a sudden breakdown are on the horizon.
A money pit for repairs. Every winter you have to make multiple service calls for noisy knocking, foul odor in the air, the pilot light blowing out, or the furnace equipment itself simply breaking down. Why not replace the furnace and spend your heating season in comfort?
Glenview Furnace Replacement Services Near You
When we install a replacement furnace for our customers, we do everything possible to make sure you get the best long-term performance out of your new heating system. We calculate the right size of furnace for your home and heating needs, which contributes to more consistent comfort and lower utility bills.
Installation quality matters, too, because a high-quality install can help lead to better performance and fewer repairs over the life of the furnace.
We install American Standard furnaces, with many options for price points and heating capacity. These are top of the line, energy-efficient furnaces and our experience with furnace replacement gives you the best experience possible.
We Install American Standard Furnaces Near You
At Glenbrook Heating & Air Conditioning, our standard is the highest standard, which is why we install American Standard furnaces. American Standard is a leading HVAC manufacturer producing:
Gas furnaces
Variable speed furnaces
And more
Why Call Glenbrook Heating & Air for Furnace Replacement in Glenview, IL?
Our Glenview HVAC company first began in a small garage on the Glenview Naval Air Station in 1969 by Fred Yurk. Glenvbrook Heating & Air Conditioning is currently owned and operated by Brad Yurk, a second-generation HVAC contractor.
We're proud to be the North Shore's and Northbrook HVAC contractor of choice for more than 50 years and always strive to provide the area's top heating and cooling services. Read our 200 customer testimonials to learn more about our dedication to quality.
We can also install a Mitsubishi ceiling cassette system or a new Mitsubishi mini split system.
Call Today for a Furnace Replacement in Glenview
To discuss your Glenview furnace replacement options or to schedule a furnace repair and diagnostics visit with our heating experts, call 847-729-0114 or contact us online now. Glenbrook Heating & Air Conditioning serves Glenview, Illinois and the entire North Shore area.
---
Furnace Replacement Throughout Chicagoland
Furnace replacement throughout  Chicagoland is a big decision for homeowners looking to upgrade their heating systems or address issues with their current furnaces. Chicagoland residents can benefit from a range of options when it comes to furnace replacement, including high-efficiency models that can significantly reduce energy consumption and lower utility bills.
When considering furnace replacement, it's crucial to consult with experienced professionals who can assess your specific heating needs, recommend the right-sized unit, and ensure a seamless and easy installation process. By investing in a new furnace, residents in the Chicago, IL area can enjoy improved heating performance, enhanced indoor comfort, and peace of mind, knowing they have a reliable and efficient heating system for the chilly winters that the region often experiences.
Here are the areas we serve: