Since 1969, Glenbrook Heating & Air Conditioning has served the Deerfield area with high-quality furnace replacement services.
When your heating equipment has broken down or begun needing frequent repairs, it's time to upgrade to the latest technology with a new, energy-efficient furnace. We offer free estimates for all furnace replacement services, so call us now at 847-729-0114 to speak with our Deerfield furnace replacement experts.
Our Furnace Replacement Process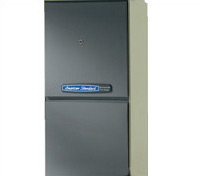 We recommend replacing a furnace as it approaches the end of its life cycle. Repairs become more frequent with older furnaces, so the investment in a replacement furnace can save you a lot of money and trouble compared to throwing money at repairs and then replacing the furnace soon anyway.
We serve our Deerfield customers with friendly customer service and guidance throughout the process.
We'll discuss your options for new furnaces so you can be confident about the heating solutions you choose. Then, your technician will replace the furnace with your choice from the wide range of American Standard furnaces.
With a free estimate and the guidance of our certified, trained technicians, your replacement furnace will be ready to heat your Deerfield home with modern efficiency and quiet, reliable performance.
Your Deerfield Furnace Replacement Options
We understand that everybody has different priorities when it comes to choosing a new furnace. Initial cost, energy efficiency, noise levels, and lifespan are just some of the factors that go into this important decision. In Chicago's North Shore area and near you, we all know that heating systems play such a critical role in home comfort. and our technicians can help you choose from your replacement furnace options:
Highly efficient furnaces
Quiet operation
Humidity control
Single speed, two speed, or variable speed motors
Oil or gas fuel options
Budget-friendly options
Deerfield Furnace Replacement Experts Near You
Our customers in Deerfield, IL come back to us for heating and cooling needs because they appreciate the value of high-quality services from a family-owned and operated company. Northbrook furnace repair and replacement can be a significant home improvement decision, and we're there for you with information and advice that you can trust.
As an American Standard Customer Care Dealer, we're also certified as experts for the replacement furnaces that we install. Get the lifespan and energy efficiency that you expect from your new furnace by choosing a trained professional to install it!
Call Today for a Furnace Replacement Estimate in Deerfield, IL
We can also help with a new Mitsubishi mini split installation or a Mitsubishi floor mount mini split system in your house.
Start the process by getting a free estimate and talking with our heating experts about your furnace replacement options. Call Glenbrook Heating & Air Conditioning at 847-729-0114 to talk to our customer care team! We also offer HVAC services in Northbrook, IL.