When your furnace has aged out of its prime, replacing it can save you from the many headaches and repair bills ahead. Replacement furnaces installed by a certified technician are likely to cut down your energy bills and heat your home more consistently and comfortably, which of course is very important if you live in a cold place like Evanston, IL.
Glenbrook Heating & Air Conditioning is a family-owned company that has proudly served Chicago's North Shore since 1969. Call us at 847-729-0114 or request an appointment for a furnace replacement in Evanston or the surrounding area.
When Do Furnaces Need to Be Replaced?
Furnaces often need replacement before they completely stop working. Just as you wouldn't replace the transmission in a 15-year-old car, older furnaces are not worth expensive repairs just to keep them going for a brief period before the next breakdown.
We recommend furnace replacement for our Evanston customers whenever the furnace is old enough and repairs expensive enough that a newer, energy-efficient furnace simply makes the most sense. The most common factors in furnace replacement are:
Broken heat exchanger or other expensive part
Losing efficiency, increasing energy bills
Old enough (12+ years old) that repairs are becoming more common
Dangerous problems (gas valve frequently broken or other gas leak issues)
Furnace Replacement Services in Evanston, IL Near You
Our furnace services will start with diagnostics and troubleshooting to see if we can get the furnace working appropriately with parts replacements or repairs. Your Glenbrook technician will clearly communicate what's wrong and explain your options for repairs versus a full furnace replacement.
To make sure you get the best results from your new furnace, we will determine the perfect size of furnace for your home and help you choose from a variety of options. Then, Glenbrook Heating & Air near you will get to work performing a skilled, professional installation so you can expect the best reliability, efficiency, and lifespan out of your replacement furnace.
American Standard Furnace Installations
Glenbrook Heating installs replacement furnaces from American Standard, a trusted brand that has earned its reputation for dependable and innovative HVAC equipment. American Standard furnaces include high-efficiency models, smart home technology, humidity control features, and more great options.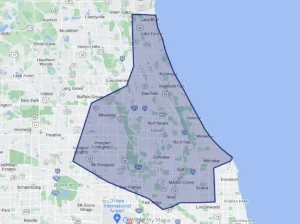 As an American Standard Customer Care Dealer and Excellence Award winner, you can take heart that your furnace replacement will be installed by a certified HVAC technician with deep knowledge and experience with the equipment. Quality installation plays just as big a role as the quality of the brand, so it's important that your new furnace is handled by a true expert!
Call Now for an HVAC & Furnace Replacement Estimate in Evanston, IL
Still not sure if you need furnace repair or replacement? Let our Evanston furnace experts perform an inspection and make recommendations. Contact us to get a free quote for our services. We will send a technician to check out your furnace.
We can also install a new Mitsubishi mini split system or a Mitsubishi 4-way ceiling cassette in your home.
Call 847-729-0114 or contact us online to schedule a furnace replacement visit in the Evanston, IL area by Glenbrook Heating & Air.