Family-Friendly Service at a Family-Friendly Price
If your furnace has seen better days, you can trust the experts at Glenbrook Heating & Air Conditioning for a full furnace replacement at your Skokie home.
We've been serving Chicago's North Shore near you for almost 50 years with professional heating services and we can help you get a fresh start with efficient, powerful replacement new furnace. Call us at 847-729-0114 for a Skokie furnace replacement estimate today.
Skokie Furnace Replacements from American Standard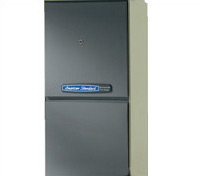 We install highly rated American Standard furnaces for efficiency and reliability. Our technicians are skilled and experienced at the entire furnace replacement process, from removing the old equipment to fine-tuning the new system for the ultimate efficiency and performance.
With a variety of price points and sizes, we have American Standard replacement furnaces fit for any Skokie home's budget and needs. Your Glenbrook technician will help you select from the brand's Silver Series, Gold Series, or Platinum Series to ensure you have the heating power and specifications that you need.
Best of all, our company is dedicated to providing great customer service. Replacing a furnace is a big step, and Glenbrook Heating & Air Conditioning will help you feel informed and happy with the decision!
Benefits of Furnace Replacement in Skokie, IL
The long, demanding heating season of Skokie puts plenty of strain on a furnace. While furnaces typically last around 20 years, it's not uncommon to need a furnace replacement in Skokie a little more often than that.
The equipment sees a lot of action, and that leads to more breakdowns and repairs, and eventually reduced energy efficiency.
When you get a professional furnace replacement by Glenbrook Heating & Air Conditioning, you can expect many benefits during the installation process and throughout the lifespan of the furnace:
Increased energy efficiency: Today's furnaces can offer 80 to 95 AFUE, meaning they efficiently heat with up to 95% of the fuel they consume. Older furnaces are often 60 to 75 AFUE, and the efficiency can decrease when a furnace needs to be replaced.
Superior heating performance: Your new furnace can have a variable speed motor for precise temperatures, smart home connectivity, and more improvements that lead to better heating, comfort, and efficiency.
Quieter furnace: With improved technology and a high-quality installation, your replacement furnace may also improve your home comfort with less noise while operating.
Certified furnace installation: We're certified as an American Standard Customer Care Dealer, so you can trust that your replacement furnace will be sized and installed to best suit your Skokie home.
Free Estimates for Skokie Furnace Replacement
Call us today at 847-729-0114 to regain control over your home heating. Glenbrook Heating & Air Conditioning near you can service any make and model of furnace, and we can help you with the decision-making process for choosing a replacement furnace for the best comfort and efficiency.
Also, give us a call if you need a Mitsubishi mini split ceiling cassette or a full Mitsubishi mini split heating and cooling unit.