Installing a new furnace and a furnace replacement installer are two important decisions to make for your home comfort.
Homeowners in Highland Park, Illinois have long counted on Glenbrook Heating & Air Conditioning near them for furnace services because of our reputation for great service and professional results.
Call us at 847-729-0114 to request a free furnace replacement estimate in the Highland Park area from Glenbrook Heating & Air Conditioning.
Highland Park Furnace Replacement Services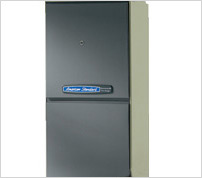 If you are on the fence about repairing your current heating system or opting for a replacement furnace, we can help you make an informed decision. We can repair any brand of furnace and explain the advantages and disadvantages of making repairs versus getting a clean slate with a new furnace.
If your furnace has broken down or reached the end of its life cycle, a furnace replacement is a sound economic decision as well as the best choice for your heating comfort.
Replacement furnaces offer modern technology that cut down on monthly bills and provide more consistent heating throughout the home.
Your Glenbrook technician near you can discuss a range of options with you to find a new furnace that suits your budget and your home.
We're certified to install American Standard furnaces, which have numerous high-efficiency models and are highly regarded for their durability and reliability. We proudly recommend American Standard furnaces because they have the strength and track record for high performance that meets the heating needs of Highland Park homes.
When to Replace Your Furnace
The most important thing to know is that furnace replacement may be the best choice even if a repair is possible. Some experts will say you should replace your furnace if the repairs would cost more than a third of the replacement cost. Each case is different. The right time to replace your furnace depends on how much your old furnace is wasting energy, whether future repairs seem very likely and costly, and simply how old the furnace is.
To make the decision, talk to our customer care team to get a free estimate and schedule a visit with our Highland Park furnace experts. We'll discuss your possible repair options and explain the advantages of replacing your furnace now:
Save money with furnace replacement: Older furnaces tend to need frequent repairs that become more serious and expensive over time. Your gas bills may be increasing due to lost efficiency, too.
Environmentally friendly: We install American Standard furnaces with up to 95

AFUE

efficiency ratings, including Energy Star options.
Comfort and peace of mind: You can go years without repairs when you opt for a professionally installed replacement furnace, while enjoying better room-to-room comfort.
Highland Park Furnace Replacement with Free Estimates
Start with a no-obligation, free estimate from our heating experts, even if you need HVAC services in Northbrook or Northbrook heater repairs. We can also install a Mitsubishi mini split system or a new Mitsubishi ceiling cassette unit.
Call 847-729-0114 to schedule a furnace replacement or service visit in Highland Park or anywhere in Chicago's North Shore area.