Are you looking for an energy-efficient way to heat and cool your home?
At Glenbrook Heating & Air Conditioning, we are dedicated to making sure our customers have strong and efficient heating and cooling systems.
American Standard Mitsubishi Mini Split System
With an American Standard Mitsubishi mini split, you can stay comfortable all year long during Chicagoland's hot summers and long, cold winters.
How Does It Work?
Here is a quick video that shows how the system works.
What Kind of Homes Work Well with Ductless HVAC Units?
Our ductless heating systems are great for older homes that lack enough space to install a central heating system.
New homes can also benefit from ductless HVAC units because they can save valuable space.
What Are Good Rooms for Mitsubishi Mini Split Systems in Your House?
Home offices
Living rooms
Basements
Dining rooms
Sun rooms
Nurseries
Rooms above a garage
Room additions
Having clean and healthy air is very important to have in your house. These indoor Mitsubishi units filter air within each individual space being conditioned.
Hyper Heat Plus Wall Unit – 3D i-See Sensor
Featured on PH series indoor units is Misubishi's 3D i-See Sensor technology. The sensor scans the room and analyzes the temperature.
The 3D i-See Sensor can detect areas of the room that need to be heated or cooled, and will distribute the best air temperature into the areas that need to be heated or cooled.
Here's how it works:
Mitsubishi Mini Split Installation Pictures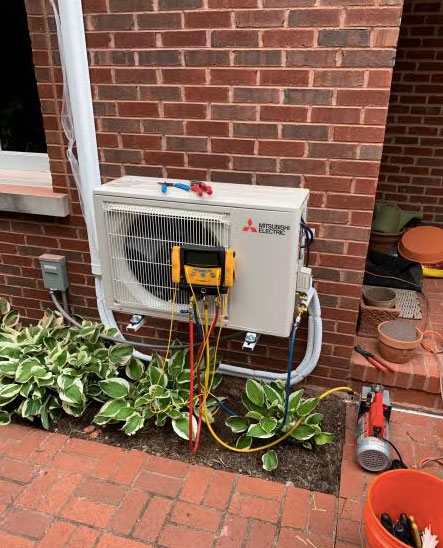 Glenbrook Heating & Air Conditioning can install your Mitsubishi mini split. Just contact us today to get started!
Learn about more Misubishi products that we offer:
Mitsubishi Electric Konnect Series Ducted Air Handler
Mitsubishi 4-Way Ceiling Cassette
Call us for more information about a Mitsubishi ductless heating and cooling system!