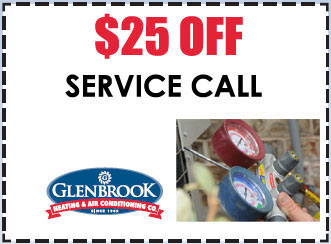 Chicago's North Shore faces such extreme weather throughout the year that your air conditioner may need repairs every few years or so to keep running strong.
At Glenbrook Heating & Air Conditioning near you, we serve Winnetka, IL with AC repairs by knowledgeable, experienced technicians.
Air Conditioning Repair Winnetka, IL
If you've never called us for HVAC repairs before, you'll be delighted to find out how it feels to be treated like family by your technician. Call 847-729-0114 or request an estimate online for AC repairs in Winnetka, IL.
Common Reasons to Call for Professional AC Repairs
Anytime that your air conditioner has begun acting up, a quick visit from our Winnetka AC service technicians can help you figure out your next step.
Some of the most common calls we respond to at Glenbrook Heating & Air Conditioning include:
Insufficient air conditioning — If the unit runs but does not cool comfortably, we need to check for refrigerant problems, clogged air ducts, a dirty or damaged coil or compressor, and other problems that need immediate attention.
AC cycles on and off at incorrect times — If you hear the unit turning on too much or not enough, there is likely a problem with the sensor or thermostat.
Energy bill spikes — AC equipment runs up a high bill if it's working harder than it should. A thorough AC cleaning, leak repair, duct sealing, and tune-up should get it working normally.
Dirty smells from AC — A mold or mildew smell usually originates at the coils; we perform a cleaning and check for water leaks and other damage to repair.
Loud noises from AC — Deep rumbling noises or high-pitched squealing can indicate that certain parts are broken, dirty, or need lubricant. We'll run a quick inspection to find the issue.
Quality AC Service in and Near Winnetka, IL
These are just a few examples of the most common AC repairs we make in the Winnetka area. Your situation will be approached with fresh eyes by our expert technicians to make sure we do whatever is best for troubleshooting your AC problems and implementing a smart solution.
What to Expect with Our Winnetka AC Repair Services
Glenbrook Heating & Air Conditioning treats our clients like family by providing helpful advice, explaining the AC repairs that we recommend, and doing each and every job with impeccable attention to detail.
Tell us about the AC problems you have noticed and our technicians will set out to find the underlying causes and identify all damaged parts.
If there are multiple solutions possible for Winnetka air conditioner repair, we will explain which route will provide the longest-lasting fix and the costs for various options. For older systems with serious problems, we can also discuss air conditioner replacement.
We want delighted customers, not just transactions. As an American Standard Customer Care Dealer, we are committed to upholding high standards of service and technical mastery.
Contact Us for Winnetka, IL AC Repairs Near You
We have been proud to service Winnetka, IL and the surrounding areas for close to 50 years. You will notice from the very first interaction how customer satisfaction is our number one priority.
We can also help if you need a Mitsubishi ceiling cassette system, American Standard AccuClean filters and system, an Aerus Air Scrubber, or an Aprilaire humidifier. Call us today for more information.
We are available for emergency AC repairs, so call 847-729-0114 or make an appointment online immediately or at the next convenient time for you.