Did you know that your indoor air can be two to five times more polluted than outdoor air?
Did You Know That the Air Scrubber Can Help Improve Your Air Quality?
People in the Chicagoland area are already exposed to more pollution and viruses than you would find in other areas of the country. That's why it's more important today to make sure the air quality in your house is as good as it can possibly be with an Aerus Air Scrubber.
Whether you have allergies or an auto immune compromised body, Glenbrook Heating and Air Conditioning can help with an install.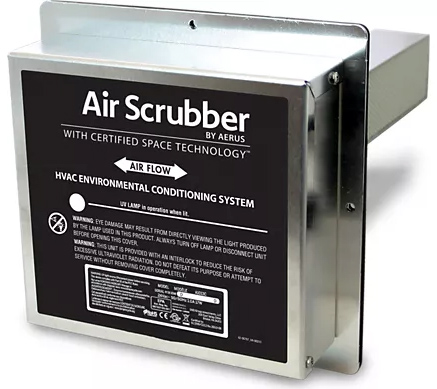 How Does the Air Scrubber Work and How to Improve Air Quality at Home?
The Air Scrubber by Aerus uses innovative, certified space technology which eliminates as much as 99.9% of the dangerous contaminants that are in the air inside your home.
It attaches to your existing heating and cooling system, so you won't need to rework your HVAC system.
Video: How ActivePure® Technology Works
How Quickly Does the Air Scrubber Remove Pollutants from My House?
The purifier will begin working as soon as you turn the system on. Within about 30 minutes, 90% of the pollutants in your air will be eliminated.
What Are Benefits of Getting an Air Scrubber Installed?
An Air Scrubber installation destroys up to 99% of surface and airborne contaminants
The air purification system improves indoor air quality for healthier living environments
It significantly reduces dust, pet dander, and odors such as cigarette smoke
It protects your HVAC system from possible dust buildup
Make your indoor air cleaner with a purifier and let Glenbrook Heating and Air Conditioning keep you safe from breathing low quality air.
Which Contaminants Can the Air Scrubber by Aerus Remove?
It can eliminate traces of viruses and germs like:
Avian influenza (bird flu)
MRSA
E. coli
C. diff
Staph
Strep
Listeria
H1N1 (swine flu)
Norovirus
many RNA viruses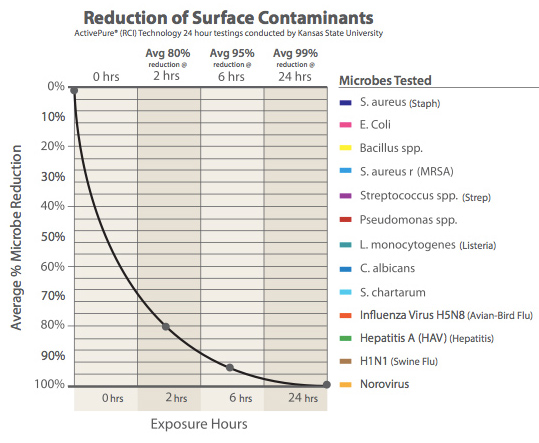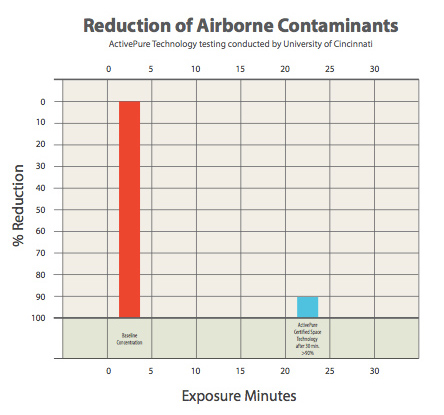 *ActivePure® Technology has been studied in controlled university testing for reduction of particulates in the air and contaminants on surfaces. Help protect your home and family against dust, allergens, mildew, smoke, odors, and odor-causing bacteria easily and conveniently with ActivePure® Technology
Are Air Scrubbers Worth the Money?
Yes. They are worth the money if you want high quality indoor air. They help remove smells like pet dander and particles in the air. Air scrubbers destroy viruses, germs, allergens, and bad odors.
Air scrubbers also help people that have seasonal allergies or auto immune compromised systems, too.
Some Risks of Having Poor Air Quality
Coughing
Eye / nose / throat irritation
Allergy symptoms
Nausea
Fatigue & headaches
Where to buy: We can help you eliminate those risks with an Air Scrubber by Aerus installation in your home.
What Areas Can Get the Air Scrubber?
We help people in the Chicagoland, Illinois area including:
Glenview
Glenbrook
Northbrook
Highland Park
Skokie
Arlington Heights
Des Plaines
Lincolnwood
Wilmette
Wheeling
Evanston
Mount Prospect
And other surrounding areas near you.
Call the Air Quality Specialists
Glenbrook Heating and Air Conditioning is your indoor clean air specialist in the Chicagoland area.
Contact us today to get started cleaning your air from viruses and pollutants. We want to keep you as healthy as possible. Call us to get your Aerus air purification system.
More Info about the Air Scrubber
The Aerus Air Scrubber is a state-of-the-art air purification system that uses ActivePure® Technology to scrub the air of pollutants, allergens, and other airborne contaminants. This system is certified by the Space Foundation to reduce up to 99.9% of contaminants in the air, making it an ideal choice for those who suffer from allergies or respiratory conditions.
The Air Scrubber by Aerus is also effective at reducing household odors, making it a great choice for homes with pets or smokers. This unit is quiet and easy to use, making it a great addition to any home.
Air Scrubber by Aerus FAQ
I like to open my windows when it is nice outside. What effect will this have on the air quality in my home?
Open windows promote the passage of outside contaminants into your home, compromising the level of air quality and purification the Air Scrubber by Aerus works to create and maintain. It is recommended to turn off the HVAC system while windows are left open.
How effective is the Air Scrubber by Aerus' ActivePure® Technology in larger buildings? My home is quite spacious. Do I need more than one unit installed in various locations?
This unit covers up to 3,000 sq. ft. If you have separate A/C systems operating throughout your home, each additional system will require its own unit.
Here is the full list of frequently asked questions about the Air Scrubber: https://glenbrookheating.com/wp-content/uploads/2020/04/faq-airscrubberbyaerus.pdf
If you're looking for an air purification system that can truly clean and purify the air in your home, the Air Scrubber by Aerus is a great option.
The Air Scrubber by Aerus is more than just a product; it's a commitment to creating a healthier and safer living environment for you and your loved ones. This device goes beyond traditional air purification, eliminating contaminants and odors while actively working to reduce airborne pathogens.
Take the step towards a fresher, purer, and healthier home today with the Air Scrubber by Aerus. Breathe easier, live better.