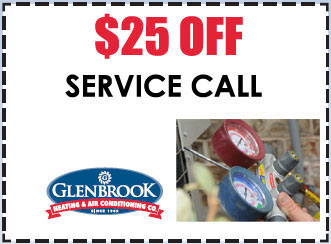 Living in Wilmette, home should feel like an oasis. After a day out running errands or working downtown, the last thing you want is to come home to a broken air conditioner. At Glenbrook Heating & Air Conditioning, we're your family-owned HVAC company that you can trust for fast and honest AC repairs in Wilmette.
We've been serving the North Shore since 1969, and we have built a reputation for treating our customers like family. Call us for Wilmette AC repairs near you to regain your home's cooling power and efficiency as fast as possible.
Call us at 847-729-0114 or contact us online to request AC repairs in Wilmette, Illinois, or anywhere in Chicago's North Shore area!
Most Common AC Repairs in Wilmette
Wondering why your AC has started struggling this summer? Check the thermostat settings and circuit breaker if the AC won't run at all. Then, call us for AC troubleshooting and repairs in Wilmette.
Dirty or clogged filter. Other parts can be forced to work harder and break down sooner if the AC runs with a dirty filter.
Refrigerant leaks. This can make the AC freeze up, stop running, or blow warm air.
Bad compressor. This part controls the refrigerant, and problems can range from weaker cooling to loud noises and breakdowns.
Bad evaporator coils. These need to be combed, straightened, and cleaned every few years, or else the AC won't send cold air inside.
Thermostat problems. The AC may be fine, but the thermostat needs to be leveled or adjusted.
These are just a few of the common culprits. Our Wilmette AC repair experts will look at your issue with fresh eyes and diagnose the exact problem, big or small.
Our Approach to Wilmette AC Repairs
At Glenbrook Heating & Air Conditioning, we treat our customers like family when we make AC repairs in Wilmette. To us, that means giving your issues our undivided attention so we can come up with a solution that works best for you. We use honest communication and promise fair prices, never trying to sell you an extravagant repair that you don't need.
Our HVAC technicians are licensed, bonded, and insured. We have won the Excellence Award from American Standard several times, and our customer testimonials describe our ability to make fast, friendly, and effective AC repairs in Wilmette and throughout the North Shore area.
Request AC Repairs in Wilmette, IL and Near You
The team at Glenbrook Heating & Air Conditioning can provide prompt service to get your home chilled down and energy-efficient again. Contact us online or call 847-729-0114 to schedule a visit for air conditioning repairs in Wilmette, IL.
We can also help if you need a Mitsubishi ceiling cassette system, an Aerus Air Scrubber, American Standard AccuClean filters and system, or an Aprilaire humidifier. Call us today for more information.