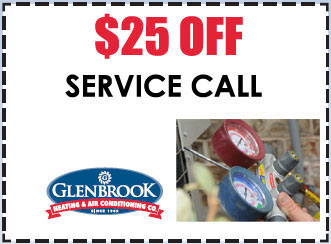 Over the years, air conditioners should maintain a high level of performance and comfort as long as you keep up with filter changes and annual maintenance.
Even still, you will probably need some AC repairs to keep things running well. At Glenbrook Heating & Air Conditioning, we're the AC repair team you need in Wheeling to provide those timely repairs that save the day when a faulty air conditioner tests your patience.
We're a family owned and operated HVAC company in Chicago's North Shore near you. When you call us for AC repairs in Wheeling, we treat you like family.
To schedule AC service, contact us online or call 847-729-0114 to speak with our Wheeling AC repair team.
When to Call Our Wheeling AC Repair Service
It's tempting to blame the blistering summer heat if your air conditioner struggles on a really hot day. However, even in July or August, your AC should run comfortably and quietly. If your AC runs poorly, makes loud noises, or fails to cool the home evenly, you may have a damaged part that our Wheeling AC repair technicians need to fix.
Contact us at Glenbrook Heating & Air Conditioning if you have noticed any AC problems such as:
Warm air from AC
AC blows cold then hot air
AC runs constantly
Poor airflow from vents
AC unit shuts down after starting
Water leak from AC
Frozen air conditioning coil
AC bills are too high
Quality Air Conditioning Repair in Wheeling, IL
Our team has the skills and experience to fix AC cooling problems with lasting solutions.
Stop wasting time with impossible DIY guides and let a pro take care of it so you can get back to enjoying your free time in comfort!
Our Wheeling AC repair services begin with advanced diagnostics and expert troubleshooting to make sure we find the root problem and replace or repair all parts that have been affected.
We maintain helpful communication with you so you can be aware of all the repair options.
We have attained American Standard Customer Care Dealer status, and we repair all brands of air conditioners. Our technicians can repair central AC units as well as other cooling systems.
Request AC Repairs in Wheeling, IL Near You
Glenbrook Heating & Air Conditioning is the company that treats you like family. Whether your A/C unit has broken down completely or just needs a good tune-up and cleaning to run quietly and more efficiently, we can help with prompt and attentive services.
We can also help if you need a Mitsubishi ceiling cassette system, American Standard AccuClean filters, an Aprilaire humidifier, or an Aerus Air Scrubber. Give us a call today for more info.
Call us at 847-729-0114 to speak with our team or request emergency AC repairs in Wheeling, Illinois, or simply request an appointment!