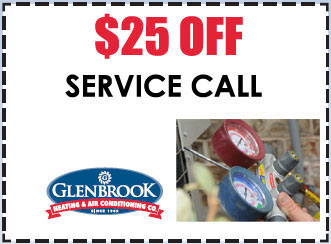 Does your air conditioning seem to be struggling this summer? Even with clean filters and an annual tune-up, air conditioners are bound to break down eventually.
Professional AC repairs can avert disaster and get your air conditioner running strong again. Since 1969, Glenbrook Heating & Air Conditioning near you has been the company that treats you like family, and we're here to help with AC repairs in Skokie, Illinois.
Your satisfaction is our chief priority when you call us for repairs.
Our customer service and technician crew have been recognized by numerous consumer groups and industry leaders, including the Distinguished Dealer award from American Standard.
For prompt, friendly help and professional Skokie AC repair service, call us today at 847-729-0114.

Most Common Air Conditioning Repairs in Skokie
Plenty of things can go wrong with any HVAC equipment. Your air conditioner may have an electrical problem, a refrigerant leak, or simply a bad internal part.
The outward signs can range from the AC not blowing cold enough air to the AC not turning on whatsoever.
If you aren't getting efficient, comfortable cooling in your home, go ahead and call us for Skokie AC repairs. Here are some of the most common service calls we hear:
AC shuts off after a few minutes
AC cycles on and off constantly
Outdoor air conditioning unit will not turn on
Frozen AC coils
Leaking AC condensate line
Utility bills going up too much
Air conditioner not cooling each room consistently
Why Call Glenbrook Heating & Air Conditioning for Skokie AC Repairs?
We find problems quickly and come up with effective solutions that get your AC running normally again. When there are multiple options for AC repairs, we explain each one clearly.
We don't push you on services you don't need, but we do make sure you have the information you need to make the best decision for you. When you call us for Skokie AC repairs, the technician does the job with your best interests at heart.
Here's how Glenbrook Heating & Air Conditioning provides the best AC repair service in Skokie:
Almost 50 years of experience
Locally owned and operated
We take pride in our reputation throughout the North Shore
Expert AC diagnostics and troubleshooting
Professional repairs for all air conditioning brands
Top-rated by Angie's List and Checkbook.org
Schedule AC Repair in Skokie, Illinois Near You
Expect a pleasant experience and high quality results when you choose us, because at Glenbrook Heating & Air Conditioning, we've been treating you like family since 1969.
Call us now at 847-729-0114 to schedule an appointment with our Skokie AC repair technicians. We offer fast scheduling and emergency AC repair service.