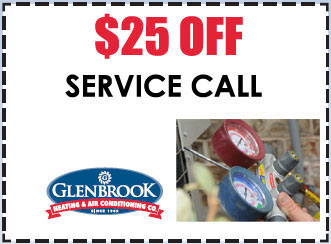 If you need air conditioning repair in Riverwoods, IL rest assured that you have one of the best HVAC companies in Northern Illinois right by your side. Since 1969, Glenbrook Heating & Air Conditioning has been treating you like family and delivering high-quality AC repairs with friendly service.
We repair all brands of equipment, and our technicians are highly trained at troubleshooting and fixing air conditioners with repairs that get your home cooled reliably and efficiently.
Call 847-729-0114 to make an appointment for the premier Riverwoods AC repair service near you.
Common Reasons to Call for Professional AC Repairs
Homeowners can do a few things to troubleshoot their own air conditioner. This includes simple steps such as cleaning or changing the air filter, checking the thermostat settings, removing debris from the outdoor unit. For more serious cooling problems, you will usually need to bring in your professional Riverwoods AC repair technician.
Make an appointment with us for AC repair in Riverwoods if you have any of the following issues:
AC not working at all
AC shuts down quickly
Air conditioner never turns itself off
AC leaking refrigerant or water
Thermostat does not control AC unit correctly
AC blowing hot air
Loud noises when AC runs or cycles on and off
Burning smell or foul odor from AC or air ducts
Air conditioning not reaching all floors or rooms
Our Riverwoods AC Repair Service

The trained HVAC technicians from Glenbrook Heating & Air Conditioning can quickly diagnose the problem so you don't spend another day in suffocating heat or running up huge energy bills.
We carry tools and parts to service any brand and model of air conditioning unit, and we know how to make the simplest and best repairs to solve the issue for the long term.
Our company was founded in 1969 by the Yurk family, who stills owns and operates our business right here in the North Shore.
We believe that providing the best Riverwoods AC repair service is our duty near you, because we think every customer should be treated like family.
From simple repairs and maintenance to more complex repairs and replacements, our technicians and service staff will help you every step of the way.
See what your Riverwoods, IL neighbors think in our customer testimonials!
Request an Appointment for Riverwoods AC Repairs
Get the air conditioning service you need from a company that has been awarded the Super Service Award from Angie's List and the Distinguished Dealer award from American Standard. Our commitment to customer satisfaction ensures that you will be happy with the experience and the results.
Call 847-729-0114 or contact us online above to schedule an appointment or click to request a free quote for air conditioning repair in Riverwoods, IL.