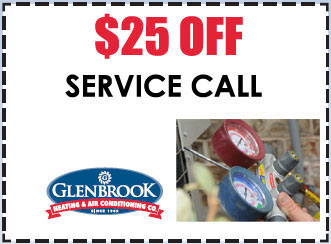 You change the air filter every month and you never forget the annual tune-up, but the air conditioner still needs repairs once in a while.
At Glenbrook Heating & Air Conditioning in Illinois, it's our job to locate the issues and make quick, simple repairs that significantly improve your comfort.
Our Prospect Heights air conditioning repair team near you can even lower utility bills and extend the life of your HVAC equipment.
Let us know what issues you've been experiencing, and our AC repair experts will be on the scene at your Prospect Heights home shortly to help.
Call 847-729-0114 or contact us online to schedule service in Chicago's North Shore.
What Happens if You Delay Air Conditioning Repairs?
Air conditioning problems often go unnoticed for days because everybody assumes that another family has been adjusting the thermostat or because it's just plain hot outside. Try not to procrastinate too much, though! Call our Prospect Heights HVAC service as soon as you notice signs of trouble so we can fix things with a relatively minor repair before the damage gets worse.
The most common reasons for Prospect Heights AC repair calls:
AC is running but blowing warm air
AC has a mildew or musty smell
AC never reaches the thermostat temperature
Outdoor AC unit will not run
Cooling bills are much higher than last year's
Excessive humidity or poor indoor air quality
Our Prospect Heights AC Repair Services Near You
At Glenbrook Heating & Air Conditioning, our service technicians are all highly trained and experienced professionals. We've earned the American Standard Customer Care Excellence Award and also repair all brands and models of air conditioners including Aprilaire, Honeywell, and more.
We provide all types of ac repairs for our Prospect Heights customers, whether it's a small part replacement or a major repair to the compressor or condenser. One call is all it takes; our technicians will diagnose and repair the problem for better, more reliable cooling this summer and beyond.
Why Choose Us for Prospect Heights, IL AC Repairs?
Our company has been serving the Prospect Heights area since 1969, and it's our motto to treat every customer like family. That means that we provide friendly customer service, we take great care to perform every AC repair skillfully, and we communicate about everything in a clear, upfront, and honest way.
Glenbrook Heating & Air Conditioning is here to provide everything from routine AC cleaning and maintenance to emergency repairs on stiflingly hot weekends. Give our family-owned HVAC company a chance to become your new heating and air conditioning repair and service provider for year-long comfort, and we'll treat you like family!
Schedule AC Repairs in Prospect Heights, IL
Make an appointment online or call 847-729-0114 to request an appointment for AC repairs in Prospect Heights or elsewhere in Chicago's North Shore.