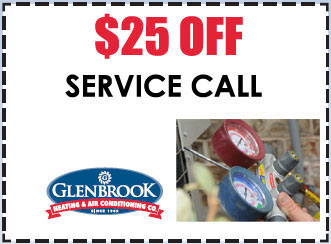 Since 1969, Glenbrook Heating & Air Conditioning has been keeping our neighbors comfortable in Park Ridge, Illinois. Air conditioners tend to work just fine until suddenly there's an issue that just can't be ignored.
Our licensed, insured technicians near you are adept at providing Park Ridge air conditioning repairs that improve your cooling, air quality, and efficiency.
Call 847-729-0114 today to schedule AC repairs in Park Ridge, Illinois.
When to Call Us for Park Ridge AC Repair
There's no need to sweat through the summer or waste your free time trying to do-it-yourself when it comes to air conditioning repairs. If your AC won't get cold or sounds like a jet taking off, call us for a fast fix by real professionals. Our Park Ridge AC repairs can solve any of the common signs of a broken air conditioner:
AC cycles on and off repeatedly
AC runs constantly and energy bills are going up
AC clicks but does not turn on
Outdoor AC unit will not run at all
AC seems to be running but not much cold air is coming out of the vents
Loud noise when the AC runs
Mildewy "gym sock" smell from the AC
Is It Time for AC Replacement or Repairs?
Air conditioners cannot last forever, even with perfect maintenance. The parts eventually wear out, and some of them are so expensive that you might as well upgrade to a replacement AC unit that is more energy-efficient and reliable.
Park Ridge, IL Air Conditioning
Our technicians can almost always find an option for AC repair so you don't have to replace your air conditioner just yet.
Only when the AC has gotten older, begun breaking down more frequently, or needs a repair with prohibitively high costs, should you replace it. In that case, we do install excellent AC replacements from American Standard.
Why Choose Glenbrook Heating & Air Conditioning for Park Ridge AC Repair?
We aim to make lifelong customers for all heating and cooling services. When you call us for AC repairs in Park Ridge, your technician will listen and communicate with you about the problem and then get hard at work solving it.
Park Ridge Cooling Near You
Here's why we should be your preferred Park Ridge air conditioning service:
Locally family-owned and operated in the North Shore
Serving Park Ridge with HVAC services since 1969
Angie's List Super Service Award winner
American Standard Customer Care Dealer & Excellence Award winner
Top-rated by Consumers' Checkbook
We make AC repairs for all makes and models of equipment
The Park Ridge AC repair team that treats you like family!
Contact Us to Schedule AC Repairs in Park Ridge, IL
Glenbrook Heating & Air Conditioning knows that HVAC problems in Park Ridge, IL can be stressful for a homeowner, and that's why we do what it takes to provide helpful solutions and get your family comfortable ASAP.
Call 847-729-0114 to schedule AC repairs in Park Ridge, or contact us online to request service.