Reliable, Certified & Insured Furnace Repairs in Mount Prospect, IL
When your furnace breaks down or is showing signs of distress, you need a reliable Mount Prospect HVAC contractor to complete your furnace repairs.
Wouldn't you want the area's best heating and cooling technicians working on your home's heating system? We would!
Welcome to Glenbrook Heating & Air Conditioning. We've been providing Mount Prospect furnace repair services near you for local residents since 1969, and we don't plan on stopping anytime soon.
We pride ourselves on providing top-notch heating repair at a family-friendly price.
Click here to schedule or call 847-729-0114 furnace repair in Mount Prospect, IL and its surrounding areas.
One of our expert technicians will be happy to come out to your home, diagnose your furnace, and provide the best furnace repair possible.
Signs That You Need Furnace Repair
If your furnace won't cycle on when it should, or if lowering the thermostat three degrees doesn't trigger your furnace to start, you need furnace repair.
Although this seems like the most obvious sign your furnace is in distress, there are others to look out for.
If you notice any of the following signs, be sure to give us a call and schedule your furnace repair in Mount Prospect:
Your furnace won't turn on – If your furnace doesn't turn on at all, you need furnace repair to fix the problem.
Your furnace turns on, but won't heat your home – If cool air is coming from your vents, or your furnace runs but your home is still cold, call a local heating specialist to diagnose the issue.
Your furnace makes loud banging or clanking noises – Your furnace naturally makes noises when it heats your home, but any loud banging, clanking, or unnatural sounds are a warning sign it's about to breakdown. You may have a broken fan blade or a variety of other issues.
Your furnace's pilot light is out – If you have a gas furnace and your furnace won't turn on, your pilot light may need to be relit. This is a dangerous task and should only be done by a certified Mount Prospect HVAC professional.
Your furnace unevenly heats your home – If you notice certain areas of your home are colder than others, you may have dirty or clogged air ducts, a faulty pilot light, or a broken thermostat.
Your furnace/home smells like natural gas – If you smell natural gas coming from your vents, turn off your furnace, leave your home, and call the local authorities immediately. A gas leak is very dangerous and potentially fatal, so it's important to take precautionary steps to find and fix the leak immediately. Once the leak is fixed, schedule furnace repair in Mount Prospect.
Your energy bills have risen unexpectedly – You might not notice your furnace needs repairs, that is, until you receive your utility bill and it's 50 percent higher than last month! If your energy bills have risen
We repair all furnace makes and models, including gas and electric furnaces from popular brands such as American Standard, Bryant, Carrier, Goodman, Lennox, York, and more!
Our Furnace Repair Process for Mount Prospect Homes
You've tried our competitors, and they simply can't treat your home heating system like we can.
At Glenbrook Heating & Air Conditioning, we've provided Chicago's North Shore with furnace repairs, including furnace repairs in Mount Prospect, IL, for nearly 50 years.
How to fix your heating with us:
Send a technician to your home
Give you an honest quote for your furnace repairs
Fix your furnace
Educate you on proper furnace maintenance
Ask us about our HVAC maintenance plans! Regular furnace maintenance ensures your heating unit is always running in tip-top shape and is ready for use whenever you need it.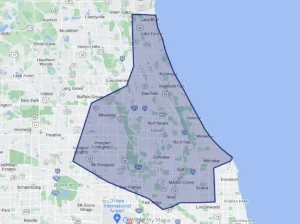 About Our Mount Prospect HVAC Company Near You
In 1969, Fred Yurk began Glenbrook Heating & Air Conditioning in a small garage on the Glenview Naval Air Station. In 2004, Fred's son Brad purchased the business with his wife Jill and incorporated the business.
The Yurk family continues to own and operate Glenbrook Heating & Air Conditioning with the same pride and dedication to customer service and integrity that began in 1969.
Although the heating and air conditioning industry has changed quite a bit over the last 50 years, we have maintained the quality that our customers have come to expect over the years.
Our customers have also been happy with our Northbrook furnace repair service.
Schedule Furnace Repair in Mount Prospect, IL
Call 847-729-0114 or contact our team online to schedule your furnace repairs in Mount Prospect, IL or its surrounding areas.