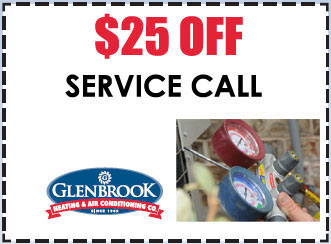 Air conditioners lose efficiency and cooling power when something goes wrong. In the meantime, your family may be dealing with warm rooms, humid air, or even strange smells or sounds.
Glenbrook Heating & Air Conditioning is here to provide top-notch service whenever you need air conditioner repairs in the Mount Prospect, Illinois area near you. For almost 50 years, we've been the HVAC company that treats you like family.
Call us today at 847-729-0114 or contact us online to make an appointment for Mount Prospect, IL air conditioning repair.
Benefits of Getting Professional AC Repairs
If your air conditioner still works, it might be tempting to just clean the filter and raise the thermostat a degree or two and live with the results. Here's why you should always call a professional Mount Prospect AC repair company to take a look:
AC repairs save you money – Struggling air conditioners waste energy while trying to cool the home inefficiently, so you rack up a high bill despite not even being comfortable.
Neglected AC problems get worse – You might have a refrigerant leak or damaged coil, in which case the performance will suffer and the unit might break down completely soon.
AC repairs should not be a DIY project – You can take care of the air filter and clean debris from the outdoor unit, but a professional HVAC technician should perform other tasks.
Quality repairs extend the life of your AC unit – Well-maintained cooling systems tend to last several years longer.
Our Approach to Mount Prospect AC Repair
We treat you like family here at Glenbrook Heating & Air Conditioning near you. We approach each AC repair in Mount Prospect with our full attention. First, we listen to your experience with the AC problem, and then we begin a point-by-point diagnostics test and inspection.
Often there are budget-friendly repair options to keep your cooling system running another year, and sometimes an aging system points to air conditioner replacement. Your technician will let you know all the options for getting your air conditioner running strong again.
Trusted AC Repairs in Mount Prospect
Glenbrook Heating & Air Conditioning was started in Chicago's North Shore back in 1969, and we're still owned and operated by the original family. We remain committed to top-quality AC repair skills and knowledge among all our technicians, as well as amazing customer service from our entire team.
We're proud to have been recognized as an official Customer Care Dealer by American Standard and our Mount Prospect AC repair services have also garnered us the Angie's List Super Service Award as a top-rated HVAC company in the Chicago area.
Schedule Air Conditioning Repairs in Mount Prospect, IL
Get comfortable and take control of your energy bills with professional quality AC repairs in Mount Prospect by Glenbrook Heating & Air Conditioning.
Request service online or call 847-729-0114 to speak with our friendly staff!