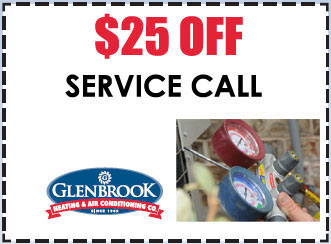 During an endless July heat wave, it's hard to understand why people around the world think Chicago is always cold and snowy. At Glenbrook Heating & Air Conditioning, we understand that your air conditioner has to work hard to keep things cool.
Our Morton Grove AC repair service near you offers the help you need from skilled technicians, with great customer service from start to finish.
To request AC repairs in Morton Grove, IL, give us a call at 847-729-0114 or contact us online. 
Signs that You Need AC Repairs Now
Many air conditioner problems seem catastrophic, but our Morton Grove AC repair team can often find a simple solution like replacing an old part or removing clogged debris. If you need a more serious AC repair, we'll help you weigh the options, and we have financing available subject to credit approval to help you get comfortable immediately.
Call us to look at your HVAC system if you have any of these symptoms:
Loud, noisy AC unit
Hot air coming from AC vents
AC has to run constantly to cool the home
AC does not cool all rooms
Skyrocketing energy bills during summer
AC unit leaking water
Frozen air conditioning coil
Professional AC Repair Service in Morton Grove, IL
Our customers get better results because Glenbrook Heating & Air Conditioning near you has some of the most knowledgeable and well-trained HVAC technicians in Chicagoland and Morton Grove. You can read our customer reviews to see what others think about our Morton Grove AC repair service.
AC Repair Service Morton Grove, IL
We'll show up to your appointment and begin diagnosing the problem quickly. Many times we can completely fix an air conditioner in just a few hours or less. We communicate with you throughout the process to make sure you're happy with the course of action and the results. Best of all, we leave you with a more reliable air conditioner!
Morton Grove AC Repairs, Maintenance, and Replacement
Owning and maintaining an air conditioner take a bit of work, and we're here to help. In addition to providing unexpected or emergency repairs, we offer AC cleaning and tune-up services to take care of regular maintenance on a seasonal or as-needed basis.
For equipment that is beyond a decade old, we can begin the conversation about when to replace an air conditioner.
Air Conditioning Repair Morton Grove, IL
If repairs will keep your unit running well enough for the foreseeable future, that's what we will recommend. Replacements start to make more sense if your old AC has become a money pit.
Glenbrook Heating & Air Conditioning treats you like family when you call us for Morton Grove AC repairs. Expect honest, friendly communication from our knowledgeable staff, who always have your satisfaction as the number one priority. If a repair is not enough, we also offer professional air conditioning replacement Morton IL services.
Book an Appointment for AC Repair in Morton Grove, IL
Make an appointment for air conditioning repairs in Morton Grove by the company that treats you like family. Call Glenbrook Heating & Air Conditioning at 847-729-0114 or simply contact us to request service.
We can also install a Mitsubishi mini split system or an Air Scrubber by Aerus. Call us today.