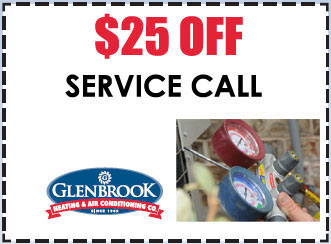 When you need air conditioning repairs in Lincolnwood, Illinois, we're here to provide skilled service with helpful advice. Glenbrook Heating & Air Conditioning is the local HVAC company that's been treating you like family since 1969. Let us know what AC problems you have and we will figure out how to get your home cooled down and comfy again.
Contact us online or call 847-729-0114 to request Lincolnwood AC repairs from our award-winning staff.
What to Do When the Air Conditioner Goes Out
Realizing that you have a broken or faulty air conditioner can cause panic. The good news is that help is just a phone call away for our Lincolnwood AC repair team near you to save the day. In the meantime, you can try some basic troubleshooting.
Look for debris blocking the outdoor unit. Clean or replace the air filter. Check the thermostat, too. Sometimes it's been set to "on" rather than "auto," which can make it blow warm air when the compressor isn't running. If the AC won't turn on at all, check for a tripped circuit breaker.
Otherwise, our Lincolnwood HVAC experts can provide the air conditioning repairs you need. We offer prompt service in the North Shore and often make AC repairs in Lincolnwood in just a few hours or less.
Our AC Repairs in Lincolnwood, IL
Air conditioners exhibit various signs of trouble as the years go by. Your AC may run but not cool sufficiently or efficiently. Loud rumbling noises or screeching sounds should also tip you off. Glenbrook Heating & Air Conditioning has experts in AC diagnostics and troubleshooting. We'll put these issues to rest and get your air conditioner working quietly and smoothly.
AC will not turn on
Spikes in energy usage
Frozen AC or leaking water
Thermostat does not turn on AC
AC keeps shutting itself off
Cool air does not reach some rooms
Cracked or rusted drain pan
Lincolnwood's Top AC Repair Service Near You
Glenbrook Heating & Cooling has been owned and operated by the Yurk family since 1969, right here in the North Shore. People come back to us and recommend us to friends because of the uncommonly pleasant experience that we provide. We make AC repairs in Lincolnwood, IL quickly and effectively while also offering great communication from start to finish.
We treat you like family, doing an honest job the right way on every AC repair we make in Lincolnwood. We always make your satisfaction our primary goal.
Top-rated on AngiesList.com and Checkbook.org
American Standard Customer Care Excellence Award Winner
Great customer reviews from around the North Shore
Emergency AC repairs available
Locally owned since 1969
We repair all brands of AC equipment
Call Today for Lincolnwood, IL AC Repairs
Get the air conditioning repairs you need from Glenbrook Heating & Air Conditioning, the company that's been treating you like family in Chicago's North Shore since 1969.
We can also help if you need an Aerus Air Scrubber or Laundry Pro 2.0 installed.
Call us at 847-729-0114 to make an appointment for AC repairs in Lincolnwood, Illinois.