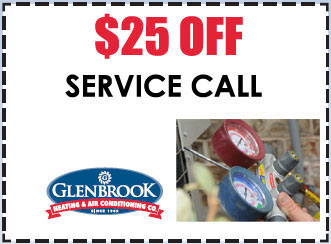 After a hard day's work in the city or a morning spent trying to get out of a nasty bunker, you want to come home in Golf, Illinois and relax with some pleasant summer air conditioning.
If you've been struggling through unreliable, inefficient, or completely broken AC lately, it's time to call Glenbrook Heating & Air Conditioning near you. Since 1969, we've been treating you like family and providing top quality HVAC services.
Our technicians are here to provide prompt service calls, helpful troubleshooting, and expert repairs for all brands of air conditioners. We even offer emergency AC repairs for immediate help on those hottest days.
To request a quote or schedule an appointment for AC repairs in Golf, Illinois, give us a call at 847-729-0114 or contact us online.
When to Call for Air Conditioning Repair
There's no reason to suffer through a summer of unnecessary heat! Glenbrook Heating & Air Conditioning is right up the road from Golf, Illinois, and we can diagnose and repair air conditioners of any make and model.
Call us if your AC will not turn on or exhibits any of these symptoms:
AC cycles on and off repeatedly
AC never reaches the right temperature
Loud sounds when AC runs
Bad odor or "dirty sock smell"
High electric or gas bills
Warm air blowing out of AC
Too much humidity or dry, dusty air
Our Golf, IL Air Conditioning Repair Services Near You
We know that you simply want your air conditioner to start working well again. Your technician will show up with the proper tools and parts to handle all the common AC repairs and some of the more unusual issues, too.
We help our neighbors in Golf, IL with repairs for air conditioners, and other types of cooling systems.
AC condenser repair
AC compressor repair
Evaporator repair
AC circuit board replacement
Condensate drain pan replacement
Refrigerant leak repair
Duct leak repair and sealing
AC Repair Experts in Golf, IL
At Glenbrook Heating & Air Conditioning, we take pride in the quality of our work and the happiness of our customers. As an American Standard Customer Care award winner, we have demonstrated this commitment to HVAC expertise, technical prowess, and helpful service.
We treat you like family when you call us for air conditioning repairs in Golf, Illinois. That means that we provide honest advice and perform the best repairs in terms of both your initial costs and the long-term performance of your AC. We just want to get you cool and comfortable now, without forcing you to break the bank.
Schedule AC Repairs in Golf, IL
To request air conditioning repairs in Golf, Illinois, give the friendly and expert technicians from Glenbrook Heating & Air Conditioning a call. We've been treating you like family since 1969, and we'd love to become your new trusted provider of all HVAC services.
Call us at 847-503-0537 or contact us online to schedule air conditioning repairs in Golf, Illinois.
You can also contact us if you need a Mitsubishi air handler or a Mitsubishi mini split ceiling cassette system.