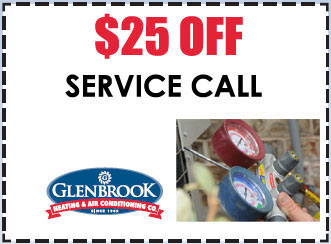 Air conditioner repairs should never be ignored. Struggling air conditioners cost more to operate, fail to cool the home evenly, and may even produce unhealthy air. For fast and friendly service, you can turn to the Glencoe air conditioning experts that have been treating you like family since 1969.
Glenbrook Heating & Air Conditioning near you has qualified technicians who are experienced at working with all brands and models of cooling systems. We offer everything from routine maintenance to emergency repairs, and convenient financing options with approved credit.
Schedule a visit for expert air conditioning repairs in Glencoe, IL by calling us at 847-729-0114.
Benefits of Professional Glencoe AC Repairs
Our technicians have the know-how to solve your air conditioner problems quickly. Don't just change your filter and hope for the best; let us get your system running more efficiently and cleanly for the rest of this summer and beyond.
It's important to bring in a Glencoe AC repair technician as soon as possible if your air conditioner has shown signs of trouble. The sooner you get repairs, the sooner you can enjoy these benefits:
Lower utility bills
Reduced environmental impact
Better cooling power
More consistent cooling in each room
Quieter air conditioner
Reduced likelihood of early replacement
Glencoe Air Conditioning Repair Experts
When you call Glenbrook Heating & Air Conditioning, you get knowledgeable technicians who can help you discover how to get better performance out of your air conditioner.
As we diagnose the problem and fix it, we can also explain to you what caused the issue and how you can take care of your HVAC equipment in the future.
We make things simple and stress-free for our Glencoe customers who need air conditioning repairs. Great communication, fair and honest pricing, and quality service near you have earned us the American Standard Excellence Award, the Angie's List Super Service Award, and many other accolades.
Read our customer testimonials to see why the North Shore trusts us for quality AC repairs.
AC Repair vs. AC Replacement
When a simple repair will fix your air conditioner, that's what we recommend. Know that when the time comes for air conditioner replacement, Glenbrook Heating & Air Conditioning is your best option for an impeccable installation and high energy efficiency.
If an inspection uncovers serious problems, your Glencoe air conditioning technician will help walk you through the options. Repair costs less now, but a replacement air conditioner can lead to lower monthly bills and better cooling from a quieter, more efficient machine. Rest assured, we aim to make you comfortable while respecting your budget and preferences.
Call Now for Air Conditioning Repairs in Glencoe, IL
For more than 50 years, we've been treating you like family while providing top-notch HVAC services in Chicago's North Shore.
Call 847-729-0114 or request an appointment online or schedule air conditioning repairs in Glencoe for your home or business.
Also, give us a call or fill our our form if you need a Mitsubishi ducted air handler or a Mitsubishi mini split heating and cooling system.