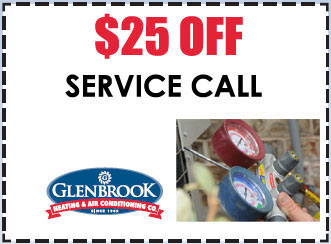 It's hard to ignore trouble with your air conditioner. You hear it rumbling or feel it struggling, or perhaps you see it in the form of higher monthly bills. A trained HVAC technician near you can diagnose the problem and get your air conditioner cooling efficiently again. Since 1969, Glenbrook Heating & Air Conditioning has been the leading provider of air conditioning repairs in the Evanston, and we always treat you like family.
Our commitment to quality service and customer satisfaction have garnered us the Angie's List Super Service Award, the Customer Care Excellence Award from American Standard, and many other awards.
For friendly and effective air conditioning repairs in Evanston, IL, call us anytime at 847-729-0114 to schedule an appointment.
Symptoms of Air Conditioner Problems
Sometimes air conditioners break down gradually, so you don't notice the problem until it worsens. You should call our Evanston air conditioning repair techs for help if you experience any of these symptoms:
Insufficient cooling
Much higher utility costs during summer
Inconsistent cold and hot rooms
Loud rumbling or whining noises
Frozen air conditioner parts
Air conditioner turns itself on and off too frequently
Quality Air Conditioning Repairs in Evanston, IL
We always put the customer first. When you call us for air conditioning repairs, your Glenbrook technician will ask about the problems you've had and conduct tests to begin troubleshooting. We can then explain your repair options depending on what type of air conditioner problem has been identified.
Our goal is to correct air conditioning problems for our Evanston customers so that they can get better performance, efficiency, and longevity out of their cooling system.
We also aim to make repairs as cost-effective as possible. If there are multiple AC repair techniques available, we'll explain each one's costs and long-term effectiveness.
When to Repair or Replace an Air Conditioner?
Eventually, an air conditioner needs to be replaced — usually after about 15 years of use. Replacing an air conditioner might make the most sense if you have an older system that needs significant repairs. Air conditioner replacement near you can prevent the headache of needing more and more repairs in the near future, and a new system will also be very efficient.
Rest assured, when you call us for air conditioning repairs in Evanston, we'll work hard to get things fixed with a simple solution that helps you get comfortable now and for years to come.
Schedule an Evanston, IL AC Repair Today!
We repair all brands and models with problems large and small. We offer routine maintenance, emergency repairs, and prompt service calls whenever you need us.
We can also install a new Mitsubishi mini split system or a Mitsubishi ceiling cassette unit in your house.
For Evanston, Illinois area air conditioning repairs by the trusted experts in Chicago's North Shore, give us a call at 847-729-0114 or contact us online.