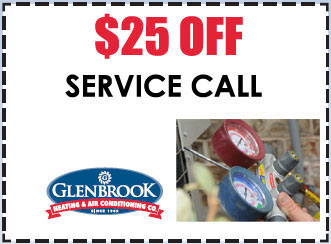 When the air conditioner starts to show signs of trouble, the experts at Glenbrook Heating & Air Conditioning are here to help. Since 1969, we've been treating you like family with friendly service and trusted repairs. If you need air conditioning repair in Des Plaines or any of the northern Chicago suburbs, you can turn to us for prompt repairs that really work.
Request an appointment online or call 847-729-0114 to schedule an AC repair in Des Plaines, IL.
Warning Signs That You Need AC Repairs
Does your air conditioner turn on, but show signs of struggle or fail to cool the home properly? Does the AC make a clicking noise? Call us to report any of these AC problems:
Blowing warm air — The AC runs but does not cool. We will look for problems including low refrigerant, a dirty coil, bad compressor, or blocked airflow.
Cycling on and off — If your AC turns itself on and off every few seconds or minutes when you try to use it, you probably have a bad sensor or thermostat. It needs to be corrected immediately because it wears out the equipment very quickly.
AC leaking water — This usually indicates a blockage or freeze up on the condensate drain line.
High energy bills — Anything that causes your air conditioner to work harder than it should, such as a dirty or clogged filter, coil, or air duct, might make the AC work overtime and drive up your bills.
Squealing, rattling, or clicking sounds — Unpleasant noises from an air conditioner can be solved by lubricating the motor, replacing fan blades, or making more significant repairs.
Experts for Air Conditioning Repairs in Des Plaines
Glenbrook Heating & Air Conditioning has earned numerous awards including the American Standard Customer Care Dealer and Excellence Award. We've been recognized by Angie's List, Yelp, Checkbook Magazine, and other media as one of the best HVAC companies in and near the Des Plaines area.
We promise exceptional quality when you choose us for air conditioning repairs:
Prompt service — We show up to appointments on schedule and offer emergency repairs when you need us most.
Expert troubleshooting — Our qualified technicians have the knowledge and experience to quickly diagnose AC problems.
Friendly advice — We treat our customers like family. We explain all repair options, costs, and let you know when to replace an air conditioner rather than continuing paying for escalating repair costs.
Quality repairs —  We use quality parts and take care to perform accurate, effective repairs that treat the root of the problem and get your air conditioner running strong again.
Schedule an Air Conditioning Repair in Des Plaines, IL
Talk to us today to find out how we can help you lower your energy bills and enjoy better comfort throughout the home. Since 1969, we've been treating you like family, and that means making sure you get the right solutions and a caring attitude.
We can also install a new Mitsubishi mini split system or a Mitsubishi ceiling cassette.
To make an appointment for air conditioning repairs in Des Plaines, call us at 847-729-0114 or contact us online now.