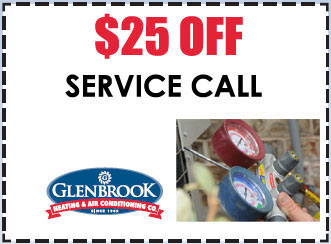 Without a properly functioning air conditioner, a Chicago summer can be as harsh as the winter. At Glenbrook Heating & Air Conditioning, we provide fast and effective air conditioning repairs for Deerfield and all of the North Shore. Our friendly customer service and skillful technicians near you make the entire process as stress-free as possible.
Call us at 847-729-0114 or contact us online to schedule AC repairs in Deerfield.
Air Conditioning Repair Services in Deerfield, IL
Your comfort is our chief concern. Describe the symptoms of the problem to your Glenbrook technicians, and then we'll conduct a quick but thorough evaluation.
We work on all brands and types of air conditioners, including other cooling systems.
Some of the most common reasons we get called out for AC repairs in Deerfield include:
Air conditioner will not turn on or stay on
AC vents blowing warm air
High cooling bills
Humid or clammy air conditioning
Rumbling or screeching noises
Burning smell from air conditioner
Or any other AC efficiency or performance problem!
When to Repair or Replace an Air Conditioner?
You may be concerned that your air conditioner is calling it quits. At Glenbrook Heating & Air Conditioning, we can help you navigate the options. Often a repair can get you through the rest of this cooling season, if not longer. Most air conditioners should last at least 15 years before you need a replacement.
We never push unnecessary work on our customers. When you call our Deerfield AC repair team near you to your home, we will look for sensible, cost-effective solutions. In the case of significant repairs such as a compressor replacement, you might prefer to invest in a new, efficient air conditioner instead.
Whether you need a simple fix or a full air conditioner replacement, we help you feel confident in your decision and make sure you get the best quality service or installation.
Trusted Experts for Deerfield AC Repairs
A lot of our business comes from repeat customers and referrals by neighbors. That's because we are committed to providing friendly service and knowledgeable advice that our North Shore customers can trust.
For more than 50 years, we have been the repair service that Deerfield trusts. Read our customer reviews to see what you can expect when you call us for AC repairs. You'll be amazed by how prompt, courteous, and thorough our technicians are. Best of all, we'll make sure to solve your AC problems to get you cooled down efficiently.
Request an Appointment for Air Conditioning Repair in Deerfield, IL
Since 1969, we've been treating you like family. If you need air conditioning repairs, tune-ups, maintenance plans, or emergency AC repairs in Deerfield, expect the best experience when you call Glenbrook Heating & Air Conditioning.
We can also help with a new Mitsubishi ceiling cassette system or a full Mitsubishi mini split system.
Call us now at 847-729-0114 to make an appointment for air conditioning repairs in Deerfield, Illinois.