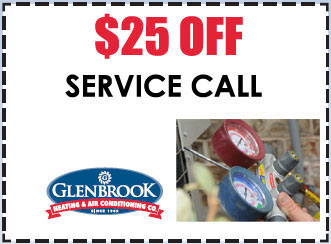 Our friendly HVAC technicians have earned the Excellence Award from American Standard and have been recognized by Yelp and Angie's List for great service. If you're sweating out a hot day with a cranky air conditioner, do yourself a favor and call now the Arlington Heights AC repair team at Glenbrook Heating & Air Conditioning.
Schedule an appointment for air conditioning repairs in Arlington Heights, IL by calling 847-729-0114.
Top Reasons to Call for AC Repair Near You
Besides cleaning your air filter now and then, there's not much you can do to repair your own air conditioner. Professional service can be fast and affordable, and lead to lower bills and cleaner, cooler air.
Among the most common reasons our neighbors in Arlington Heights call for AC repair:
Your AC isn't blowing warm air
You want to reduce utility bills
It's time for an AC tune-up (annual maintenance recommended)
Your AC makes loud noises or smells bad
Your AC has been leaking or pooling water
You're trying to decide between repairing or replacing the AC
AC Repair Service in Arlington Heights, IL

As an HVAC company committed to delivering the best home comfort, your air conditioner repairs are something we take very seriously. Our company has been owned and operated by the Yurk family right here in the North Shore area for almost 50 years, and we consider even the smallest repairs to be an opportunity to wow our customers with great service.
Glenbrook Heating & Air Conditioning uses the latest HVAC troubleshooting tools and our own breadth of knowledge to find solutions fast and make top-notch repairs. We find simple solutions for complex problems, so you don't need to worry about aggressive salesmanship. We just want to repair your air conditioner and lengthen its life.
We also offer emergency AC repair in Arlington Heights and nearby. If your air conditioner has broken down and the hot weather is causing a serious problem, please call us for emergency AC repair in Arlington Heights right now.
Arlington Heights AC Repair
Stop sweating it out and get the cooling repairs you need ASAP. Call 847-729-0114 today to make an appointment or click to request an appointment for AC repairs in Arlington Heights, IL. From air conditioner tune-ups to major repairs and replacements, Glenbrook Heating & Air Conditioning will provide the AC service you need with customer service you'll love.
We can also install a Mitsubishi mini split ceiling cassette system or a full Mitsubishi mini split system. Call us today!