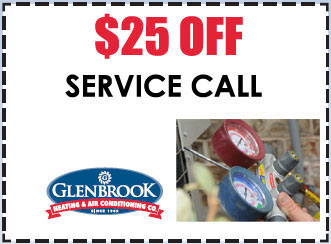 With the extreme temperatures that we get in Northfield, IL, your air conditioner has its work cut out for it after sitting around for a long winter. At some point, you're bound to need an air conditioner repair or part replacement to get your cooling power and efficiency back.
Air Conditioning Repair Northfield, IL
Glenbrook Heating & Air Conditioning near you performs AC repairs in Northfield with the helpful advice you would expect from a family-owned local provider.
Founded here in Chicago's North Shore in 1969, our company remains committed to customer satisfaction.
We achieve that with knowledgeable technicians, fair prices, and highly professional AC repairs in Northfield on every job.
Call us now at 847-729-0114 to request an appointment for Northfield AC repair services.
Northfield Air Conditioner Repair
All you have to do is describe the problem to your Northfield HVAC technician and let us take a look at the equipment. We'll troubleshoot the issue quickly and come up with a repair or replacement solution to get things chilly again.
Let us know if your AC won't turn on, blows warm air, or has some other issue like a leak, noise, or odor. Glenbrook Heating & Air Conditioning technicians are qualified to perform all kinds of AC repair in Northfield:
Central air conditioner repairs
Split system AC repair
AC compressor repair
Refrigerant leak repair
Duct sealing
AC tune-ups
AC cleaning
And more
Trusted AC Repairs in Northfield, IL
Fred Yurk founded our company in neighboring Glenview back in 1969, and the Yurk family still owns and operates Glenbrook Heating & Air Conditioning. We're devoted to Northfield and the North Shore community, with our motto being that we treat you like family.
You don't have to worry about being given the "runaround" or tricked into a more expensive repair than is necessary.
Our technicians have a laser focus on doing exactly what is best for you and your air conditioner. We're here to make you comfortable and happy with the highest quality AC repairs in Northfield.
AC Repair or Replacement?
When an air conditioner approaches the end of its life cycle, it tends to start failing piece by piece rather than all at once.
Air Conditioning Installation Near You in Northfield, IL
If you are interested in AC replacement, Glenbrook Heating & Air Conditioning can help you break down the options with a cost-benefit analysis of our Northfield AC repairs or AC installation service.
Rest assured, we'll work hard to get things working with a simple repair first!
Schedule Service for AC Repairs in Northfield
Call 847-729-0114 or send us a message to request air conditioner repairs in Northfield, Illinois or the surrounding North Shore neighborhoods. Air conditioning installation is also available. Glenbrook Heating & Air Conditioning will treat you like family by providing honest, quality service on every call!