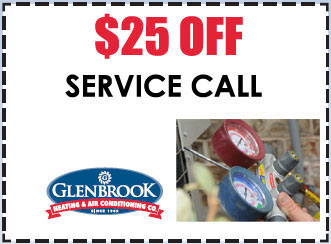 Has your air conditioner suddenly lost its cool? Just when you least expect it, any air conditioner can break down or start showing signs of impending doom. Thankfully, our Niles AC repair team near you can troubleshoot the problem and find an effective solution to help you enjoy the rest of your summer.
Glenbrook Heating & Air Conditioning has been treating you like family since 1969, and we're ready for your call whenever you need AC service in Niles.
For an appointment, call 847-729-0114 or get in touch with us online to let us know how we can help with AC repairs in Niles, IL.
Benefits of Our Niles AC Repair Services
Thinking about delaying AC repairs to try to save money?
When a cooling system needs repairs, it usually runs inefficiently and costs you more. Combined with the risk of needing an AC replacement prematurely, and it's always the safe bet to call our Niles AC repair team near you sooner than later.
Our team has decades of experience at repairing air conditioners. We service central AC units, and other cooling systems from all brands.
We can help with professional repairs that do more than just get your AC running again:
Lower energy bills
Increased energy efficiency
Maximize the longevity of your AC
Make the AC run more quietly
Prevent more costly repairs later
Better indoor air quality
Trusted Experts for AC Repair in Niles, IL
At Glenbrook Heating & Air Conditioning, our customers' opinions mean the world to us. Our customer testimonials can give you an idea of what neighbors think about our Niles AC repair service. We're known for being prompt, thorough, highly professional, and able to make repairs that last.
We understand that broken air conditioners can bring lots of stress and anxiety about the cost of repairs and how long it takes to fix. That's why we provide great communication and helpful advice so you understand the cause of the problem and what needs to be done. Then, we go about performing skillful repairs to get the frosty air blowing as soon as possible.
We're proud of the HVAC service awards we've earned, and we would love to earn your trust next.
Call Us for Air Conditioning Repair in Niles, IL
Find out why so many homes in the North Shore area trust Glenbrook Heating & Air Conditioning for cooling repairs and more. Our family owned and operated business always does what's right for you, the customer.
Contact us or call 847-729-0114 to request an appointment for air conditioning repairs in Niles, Illinois.