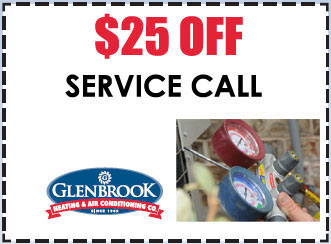 As beautiful as the green surroundings of Lake Forest are, the summer temperatures still drive us all indoors where we rely on air conditioning to beat the Chicago heat.
Air Conditioning Repair Lake Forest, IL
If your air conditioner has been acting strange or failing to keep the house cool, Glenbrook Heating & Air Conditioning near you can provide fast and courteous AC repairs for your Lake Forest home.
Get your air conditioner repaired by the team that's been treating you like family in Chicago's North Shore since 1969.
Contact us online or call 847-729-0114 to request an appointment for Lake Forest, IL air conditioner repairs.
How to Tell if You Need AC Repairs in Lake Forest
It's possible that an air conditioner will struggle a little bit on the occasional 100 degree day. It's normal for the AC unit to have to run constantly when it's very hot out. However, you should get the cooling power you want regardless of the outdoor temperature.
If the air conditioner blows hot air or it feels like the ambient outdoor air, that's a problem.
AC Repair Lake Forest, IL
If the unit shuts itself off unexpectedly or fails to come close to the thermostat setting, that's another reason to call our Lake Forest AC repair team.
Besides insufficient cooling, other signs that you need AC repairs include foul smells, loud rumbling noises or screeching sounds, and indoor air quality issues such as humidity or dusty air.
Air Conditioner Repair or Replacement?
Your comfort and satisfaction are our top priorities. We never pressure you into making unnecessary repairs or replacing the air conditioner sooner than needed. During our Lake Forest air conditioner repair visits, we might discuss your options for AC replacement if any of these conditions are true:
Your air conditioner is more than 10 years old
Your air conditioner is the wrong size for your house
You need a new major part replacement such as the condenser coil or compressor
Repairs would cost too much or would only patch the problem for a short time
You need AC repairs every year
Award-Winning AC Repairs in Lake Forest, IL Near You
As a family-owned HVAC company here on Chicago's North Shore, our business depends on happy customers who leave us positive reviews and refer us to their neighbors.
AC Contractor
That's why we promise the highest quality of service on every job. When you choose us for any major or minor AC repair in Lake Forest, you can expect a qualified technician who will solve the cooling problem immediately.
Glenbrook Heating & Air Conditioning has been awarded the Customer Care Excellence Award by American Standard, the Super Service Award by Angie's List, and more recognition for our commitment to quality HVAC services in the Lake Forest area.
Free Appointment for Lake Forest AC Repair Service
Give us call today at 847-729-0114 or request an appointment online for air conditioning repairs in Lake Forest, Illinois by the company that treats you like family!
Also, make sure you contact or call us if you want a Mitsubishi minisplit installed or a Mitsubishi ceiling cassette system.