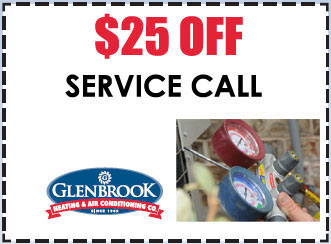 At Glenbrook Heating & Air Conditioning, we treat you like family when you ask us for AC repairs. We've been serving the Highwood, IL area since 1969 with the highest quality of HVAC services near you, and we'll be happy to help with whatever AC problems you are experiencing this year. We service all types of equipment, and we even offer emergency repairs when the problem cannot wait any longer.
To make an appointment for AC repairs in Highwood, call us at 847-729-0114 or send us a message.
Problems that Require Professional AC Repair
Sometimes an air conditioner just needs a good cleaning to perform better. In addition to changing the air filter, you can see if there is debris or dirt that you can clean off of the outdoor unit. Otherwise, you should make an appointment with our Highwood, IL AC service technicians to troubleshoot and fix the problem.
Our Highwood AC repairs can resolve insufficient cooling, loud noises, and many other AC problems.
Your AC does not turn on when it should
Your AC never turns off, the home never reaches the right temperature
Your AC runs but blows hot air or ambient outdoor air
The house feels humid when the AC runs
This year's summer energy bills have gone way up
AC Repair Services in Highwood, IL
Our technicians bring the right tools and knowledge to the job. We have been repairing air conditioners in Chicago's North Shore for almost 50 years. No matter what brand or type of air conditioner is in your Highwood home, we will know how to work with it.
Central AC repairs
Emergency AC repairs
Compressor repair
Condensate drain line repair
AC Coil cleaning
Circuit board replacement
Thermostat repair & replacement
Air duct leak repair
Refrigerant leak detection
Expert AC Repairs in Highwood, IL
We know that you want AC repairs that truly address the problem—without going overboard and asking you to spend money on repairs and replacements that you do not need.
At Glenbrook Heating & Air Conditioning near you, our goal is to treat the problem and leave you with a better running air conditioner so you can feel comfy the rest of this cooling season and beyond.
When you choose us for Highwood AC repairs, you can expect top-notch service from friendly professionals. When we say we treat you like family, we really mean it. Your comfort and satisfaction are as important to us as our own.
Don't take our word for it; read our customer reviews to hear more about our Highwood AC repair service.
Schedule Highwood AC Repair
Tell us what we can do to make your home more comfortable and your air conditioner more efficient and reliable.
We'll do everything it takes to fix your AC system quickly and professionally.
Contact us if you want a Mitsubishi minisplit installed or a Mitsubishi mini split ceiling cassette system.
Call Glenbrook Heating & Air Conditioning at 847-729-0114 to contact us online to request an appointment for AC repairs in Highwood, IL.