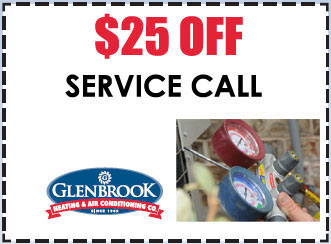 In 1969, our company was founded right here in Glenview, Illinois. When you call Glenbrook Heating & Air Conditioning, we treat you like family.
We believe that you deserve both friendly customer service and top-quality workmanship from your HVAC company near you. We solve air conditioning problems to help our friends and neighbors enjoy better cooling efficiency and reliability.
If you need air conditioner repairs in Glenview, call us at 847-729-0114 to schedule an appointment now.
Common AC Repairs
Don't wait for your air conditioner to shut down completely. If you are paying sky-high utility bills for an aging air conditioner, or you just aren't getting the cooling power that you used to, we can help. We service all brands and models, and our technicians will be happy to fix any type of air conditioner problem:
Air conditioner won't turn on
Outside AC unit not running
Frozen AC coil
Leaking water or refrigerant
AC blowing hot air
Thermostat does not control AC correctly
Blocked airflow in ducts or vents
AC makes strange noise or odor
Glenview Air Conditioning Repairs from a Local Company
Ever since Fred Yurk founded our company in a garage at the Glenview Naval Air Station in 1969, our team has been growing and improving at providing heating and air conditioning repairs.
Today, we are still based in Glenview but we use cutting-edge technology and diagnostics tools to locate the issue and make certain that are AC repairs are working.
You can still expect friendly, old-fashioned customer service from Glenbrook Heating & Air Conditioning. Your satisfaction is our utmost priority.
Our efforts have awarded us the Excellence Award from American Standard and many other honors, and you can read our customer reviews to see what others in Chicago's North Shore have to say.
Our AC Repair Process
You can call us at any time, including for emergency services. Whenever you need air conditioning repairs, Glenbrook Heating & Air Conditioning will show up promptly and ready to work.
After hearing about the AC issues in your home or business, your technician will inspect the HVAC system and determine the necessary repairs. We'll help you decide which repairs will be most cost-effective for you. In some cases, we will go over the pros and cons of replacing an air conditioner rather than repairing it.
Ultimately, we want to make sure that you are cooled and comfortable and that your air conditioner is operating efficiently. We always make sure our Glenview customers are completely satisfied with our AC repair services!
Schedule AC Repairs in Glenview, IL
Expect the best service and results from the company near you that's been treating you like family since 1969. Glenbrook Heating & Air Conditioning is the local Glenview AC repair experts that you can trust.
Call us at 847-729-0114 or contact us online to request an estimate or schedule an AC repair visit today.
Also, you can give us a call if you need a Mitsubishi ducted air handler or a Mitsubishi mini split ceiling cassette system.