Family-Friendly Service at a Family-Friendly Price!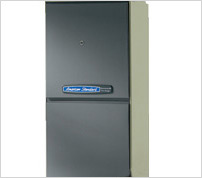 A complete furnace replacement may seem like a big step, but the truth is that furnaces can only last about 15 to 20 years.
Older furnaces start breaking down, which not only leads to more frequent repairs but also poor performance and fuel-guzzling along the way.
Homeowners trust us for friendly service and high-quality furnace installations.
We provide furnace replacement services throughout Chicago's North Shore and we'd be happy to provide you with a free estimate for furnace replacement in Northbrook, IL — contact Glenbrook Heating & Air Conditioning online or call 847-729-0114 to schedule an appointment!
Reasons to Get a Furnace Replacement in Northbrook
For an old or constantly broken heating system, Northbrook furnace replacement services near you may be your best option. Even if a repair is possible, there's a good chance that your worn-out furnace is costing you money by running up the gas bill.
If you have certain rooms that seem to never get warm enough, that's another sign that your furnace needs to be replaced.
Compared to a furnace that is constantly needing repairs or has simply reached the end of its life cycle, a replacement furnace can bring you several benefits:
Better energy efficiency and more eco-friendly
Lower monthly utility bills
More consistent heating throughout the home
Say goodbye to a noisy, smelly old furnace
Safer ignition compared to old pilot lights
If you're not sure about getting your furnace repaired or replaced, simply ask our Northbrook HVAC experts to come take a look.
We promise honest recommendations and helpful advice so you can make the best decision for your furnace and your comfort.
Furnace Replacement in Northbrook, IL
When we install replacement furnaces for our friends in the Northbrook area, we make sure to get you the best comfort and performance with a high-quality installation.
Sizing and selection of your furnace are very critical for maximizing the new furnace's energy efficiency.
Glenbrook Heating & Air Conditioning only installs modern, high-performance furnaces when we replace old equipment. We're a certified American Standard Customer Care Dealer, which represents our training and expertise for installing American Standard furnaces with precision and care.
Furnace Installation Northbrook, IL
We're also a family-owned business that cares about our reputation throughout the North Shore community. Talk to us for an estimate on your furnace replacement, and you'll get a feel for why Northbrook homeowners near you have trusted us for almost 50 years for home heating repairs and replacements.
Request a Free Furnace Replacement Estimate!
Get your home heating back in order with a furnace replacement or whatever HVAC services you need from our home heating experts in Northbrook.
Call Glenbrook Heating & Air Conditioning today at 847-729-0114 for a free furnace replacement estimate and to schedule service!
Also, you can call us if you need a Mitsubishi ceiling cassette mini split or a full Mitsubishi mini split heating and cooling system.