Call our team of experts
847-729-0114
Northbrook Air Conditioning Repair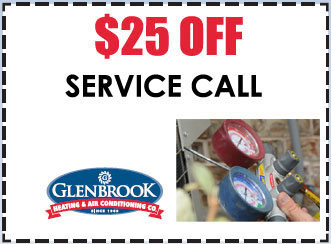 Looking for a Northbrook air conditioning repair service to put your cooling problems on ice? At Glenbrook Heating & Air Conditioning, we treat you like family and provide the highest level of service for each and every customer. We've been serving Chicago's North Shore area since 1969, and our Northbrook AC repair team is always happy to troubleshoot and fix the most demanding HVAC problems.
We offer routine maintenance, AC cleaning, indoor air quality testing, and full-service AC repairs including emergency services when you need us the most.
Call 847-729-0114 to schedule an appointment or get a free quote for the best AC repair service in Northbrook, IL.
Our Northbrook Air Conditioning Repair Services
Some of the symptoms of air conditioner problems are hard to ignore. You might have an AC that runs constantly without ever reaching the desired temperature, or perhaps it cycles on and off rapidly. Other times, your air conditioning seems to work okay but your monthly bills have gotten insanely expensive.
At Glenbrook Heating & Air Conditioning, our Northbrook AC repair team knows how to troubleshoot any of these problems and find a reasonable solution to get you cooled down again.
AC compressor repair
Refrigerant leak detection, repair, and recharge
Condenser fan repair
Evaporator fan repair
Air duct repair and patching
AC circuit board replacement
Condensate drain line repair
And more…
AC Repair Experts in Northbrook, IL

Looking for an AC repair service that gets the job done right the first time? Stop wasting time with a handyman who spends more time scratching his head than he does actually fixing things. The team of Glenbrook Heating & Air Conditioning consists of highly trained and experienced HVAC professionals with advanced testing and diagnostics tools for fast, effective AC repair.
Read our customer reviews to see what others think about our Northbrook AC repair service!
We've been serving Chicago's North Shore since 1969 and we always aim to treat every customer like family. Expect friendly service, quality repairs, and better performance out of your AC long after we leave.
Glenbrook Heating & Air Conditioning has been awarded American Standard Customer Care Dealer status, proving our commitment to both service and technical proficiency. We also know our way around air conditioners of all brands and models, new and old.
Our Northbrook AC repair service is also available for emergency services, so call us whenever you can't wait for an appointment.
Schedule AC Repair in Northbrook
Let us prove to you why we should be your new favorite phone call to make for Northbrook AC repair.
Call Glenbrook Heating & Air Conditioning at 847-729-0114 for a free estimate or to schedule service for air conditioner repair in Northbrook, Illinois.
Get a Free Estimate Today!
What Our Customers Are Saying
I have been a customer of Glenbrook Heating & Air Conditioning for 30+ years. The company and their employees are professional and friendly.

- Sherry H. on 09/20/18

We've been customers for a very long time and we have nothing but good things to say about Glenbrook heating & air conditioning . They are reliable, reasonable, & most of all honest.

- Carol A D. on 09/11/18

It all went quite well. Nick and Brian were great. We have used Glenbrook Heating and Air Conditioning for over 40 years and will continue to recommend them.

- Nancy Q. 09/05/18

High quality accurate service; listen to and work with customer; professional; committed to providing high quality customer service.

- Linda T. 08/23/18

Jill,

Glenbrook Heating & AC is great. I really enjoy working with Jill, and the technicians - Dominick and Nick are the two I have worked with -- are always prompt, thorough, and answer my many questions. Keep up the great work.

- Mark C. 07/12/18

Brian,

A huge thank you for coming out in a short notice Brian was professional and service was outstanding you save us from scorching temps we really appreciate you!!!

- Rosemary S.

Dear Brad,

This is to thank you for your quick installation of my new water heater. It means a lot to me. You and your dad should be commended for your prompt and business-like way of conducting your business. I made the initial call to Fred…

- Betty H. (Glenview)

Fred and Brad,

Thank you so much for your prompt attention.

- Marla S. (Glenview)

Dear Brad,

Thank you for the beautiful job you did in the basement! I really appreciate the thoroughness and care by which you put the whole thing together! It is always a pleasure to do business with you and your dad. Please send regards to him.…

- Terry B. (Glenview)

Dear Fred and Brad,

Thank you very much for your fast response to my air conditioning problem. Brad was a genius—in a very short time he identified the problem, corrected it, and was on his way. I appreciate your service and fine work.

- June K. (Glenview)

Brad,

Thanks for stopping over on Saturday to check by boiler during the deep freeze. You're the best!

- Monika

Fred, Brad and Jill,

Thank you for such wonderful service. You all have been so helpful. The installation was flawless and we love how well the furnace works. What a difference! See you in the spring for our annual cleaning.

- George and Ginny H. (Northbrook)

Dear Brad,

Thank you for a job well done. See you in the winter.

- Behrooz Z. (Northfield)

Dear Brad,

Thanks so much for your prompt service. I really appreciate it.

- Sally K. (Wilmette)

Thank you for the quick service.

- Alice M. (Skokie)

Thank you Brad for your tidy job of putting in the humidifier.

- Susie