Call our team of experts
847-729-0114
Buffalo Grove Air Conditioning Repair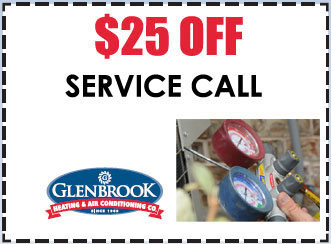 Do you find yourself reaching for more ice cold lemonade because your air conditioner isn't doing its job well enough? Air conditioners need repairs to stay clean, efficient, and strong. At Glenbrook Heating & Air Conditioning, we help our Buffalo Grove customers with affordable and expert repairs to help you lower the temperature as well as your utility bills.
Since 1969, we've been treating you like family in Chicago's North Shore. We offer free estimates, friendly service, and a dedication to your satisfaction and comfort. Our technicians can repair air conditioners including split systems, heat pumps, ductless mini-splits, and central AC systems.
Request service online or call 847-729-0114 to schedule an estimate for air conditioner repairs in Buffalo Grove, IL.
Our Buffalo Grove AC Repair Services
Many air conditioner problems are invisible to the untrained eye. You might feel warm or room temperature air coming through the vents, or hear strange noises from the air conditioner. But you probably need an HVAC expert to inspect and diagnose the issue. Our Buffalo Grove AC technicians use a wealth of experience, training knowledge, and high-tech tools to find a solution fast.
When you call Glenbrook Heating & Air Conditioning for service, you can expect crystal clear communication and helpful advice. We'll explain your options for repair and replacement, and describe which AC repair will be most helpful.
AC tune-up
AC maintenance and cleaning
Refrigerant leak detection
Recharge refrigerant
Duct cleaning
AC compressor replacement or rebuild
AC coil repair
Frozen AC repair
How to Avoid Expensive AC Repairs
Proactive maintenance offers the best chance of avoiding AC repairs. Our Buffalo Grove customers who opt for seasonal maintenance plans can expect better efficiency and fewer breakdowns each cooling season, and potentially a longer lifespan for the equipment.
In addition to getting AC tune-ups and maintenance, you should also be sure to change or clean the air filter regularly (up to once a month). It may also help to sweep debris from the outdoor unit when necessary.
At some point, your conditioner will need repair or replacement. When problems begin, go ahead and call our Buffalo Grove AC repair technicians to nip things in the bud. A small repair now may eliminate the need for a much more expensive solution in the near future!
Schedule Air Conditioning Repair in Buffalo Grove, IL
We are always standing by to help with troubleshooting and repairs. Let us know about the trouble with your air conditioner or heat pump, and we can provide a free estimate.
Call 847-729-0114 to request air conditioning repairs in Buffalo Grove by the award-winning HVAC experts at Glenbrook Heating & Air Conditioning.
Get a Free Estimate Today!
What Our Customers Are Saying
Dear Brad,

This is to thank you for your quick installation of my new water heater. It means a lot to me. You and your dad should be commended for your prompt and business-like way of conducting your business. I made the initial call to Fred…

- Betty H. (Glenview)

Fred and Brad,

Thank you so much for your prompt attention.

- Marla S. (Glenview)

Dear Brad,

Thank you for the beautiful job you did in the basement! I really appreciate the thoroughness and care by which you put the whole thing together! It is always a pleasure to do business with you and your dad. Please send regards to him.…

- Terry B. (Glenview)

Dear Fred and Brad,

Thank you very much for your fast response to my air conditioning problem. Brad was a genius—in a very short time he identified the problem, corrected it, and was on his way. I appreciate your service and fine work.

- June K. (Glenview)

Brad,

Thanks for stopping over on Saturday to check by boiler during the deep freeze. You're the best!

- Monika

Fred, Brad and Jill,

Thank you for such wonderful service. You all have been so helpful. The installation was flawless and we love how well the furnace works. What a difference! See you in the spring for our annual cleaning.

- George and Ginny H. (Northbrook)

Dear Brad,

Thank you for a job well done. See you in the winter.

- Behrooz Z. (Northfield)

Dear Brad,

Thanks so much for your prompt service. I really appreciate it.

- Sally K. (Wilmette)

Thank you for the quick service.

- Alice M. (Skokie)

Thank you Brad for your tidy job of putting in the humidifier.

- Susie